Sarah Whetstone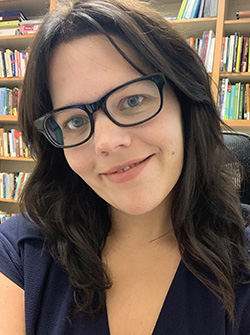 Assistant Professor of Sociology
Bradley Hall 113
(309) 677-2390
swhetstone@bradley.edu
Ph.D., Sociology, University of Minnesota
B.A., Sociology, University of Illinois Urbana-Champaign
Biography
Dr. Whetstone joined Bradley in 2016 as an Assistant Professor of Sociology in the Department of Sociology, Criminology and Social Work after working as a full-time instructor of sociology. Her main interests and areas of expertise include social inequalities; punishment, deviance, and social control; sociology of health and illness; drugs and society; addiction studies; social theory; and qualitative research methods. When she's not doing sociology, she enjoys gardening, guitars, karaoke and concert-going.
Teaching
Dr. Whetstone teaches the core inequality courses for the sociology program, Social Inequalities (SOC 312) and Race, Ethnicity and Power (SOC 313), courses which also contribute to minor programs in Women's and Gender Studies and African American Studies. She also teaches introductory sociology courses each term (SOC 100), as well as an upper-level topics course on Drugs and Society (SOC 390). Outside her department, Dr. Whetstone contributes to the Bradley Honors Program and participates in the LAS First Year Seminar Program with her course, "High Anxieties: Intoxication and Addiction in American Life."
Scholarship
Dr. Whetstone's research focuses broadly on how contemporary shifts in American governance take shape "on the ground" in social programs designed to manage poverty, homelessness, addiction and crime. Her current work examines the growth of coerced addiction treatment in the era of mass incarceration—and in particular, how damaging cultural stereotypes linking race, class and criminality have shaped our understanding of addiction and routed addicts across the social structure into vastly different forms of recovery.
With co-author Teresa Gowan (University of Minnesota), Dr. Whetstone's ongoing book project, American Addict: Out of Control in the Treatment State, is a comparative-ethnographic study of the American recovery scene, drawing on more than six years of fieldwork and hundreds of interviews to analyze how "recovery" is understood and experienced across the country's different treatment paradigms, including "Minnesota Model" paradigm, court-mandated therapeutic community rehab, faith-based treatment, and harm reduction.
Selected Publications
Whetstone, Sarah and Teresa Gowan. 2018. "Carceral Rehab as Fuzzy Penality: Hybrid Technologies of Control in the New Temperance Crusade." Special Issue of Social Justice, Neoliberal Confinements: Social Suffering in the Shadows of the Carceral State 44(2/3): 83-112.
Page, Joshua and Sarah Whetstone. 2013. "Beyond the Trial: Teaching About the Disproportionate Imprisonment of African Americans." in Teaching Race and Anti-Racism in Contemporary America: Adding Context to Colorblindness. Edited by Kristin Haltinner. New York: Springer Publishing, pgs. 35-41.
Gowan, Teresa and Sarah Whetstone. 2012. "Making the Criminal Addict: Subjectivity and Social Control in a 'Strong-Arm' Rehab." Punishment and Society 14(1): 69-93.
Gowan, Teresa, Sarah Whetstone, and Tanja Andic. 2012. "Addiction, Agency, and the Politics of Self-Control: Doing Harm Reduction in a Heroin Users' Group." Social Science and Medicine 74(8): 1251-1260.
Whetstone, Sarah and Teresa Gowan. 2011. "Diagnosing the Criminal Addict: Biochemistry in the Service of the State" in Advances in Medical Sociology, Volume 12: Sociology of Diagnosis. Edited by P. J. McGann and David J. Hutson. Howard House, UK: Emerald Publishing, pgs. 309-330.
Service
Dr. Whetstone served as the faculty advisor for Sociology Club, and is active on both the Women's and Gender Studies committee and the African American Studies committee at Bradley. Her work includes developing curriculum for the WGS and AAS minor programs, working with students to support their independent research interests, and creating campus programming that highlights issues of inequality and social justice.